A note from our Headteacher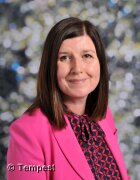 Welcome to James Knott C of E Primary School! Our aim is to create a warm, safe and happy environment where every child feels valued and inspired to learn.  We pride ourselves on our family ethos and strive for excellence in everything that we do.
We are proud of our focus on traditional values, good manners and enthusiasm for learning. We provide an exciting and varied curriculum with inspiring classrooms that are bright and welcoming, with lively and interesting displays to celebrate children's work.  This well-designed curriculum supports good-quality teaching and encourages the development of skills across all subjects, preparing our children for academic and personal success now and in the future.
We hope you find the information on our website useful. If you have any questions however, please don't hesitate to get in touch!
Mrs C Mullen
Headteacher
"My lighthouse, my lighthouse, shining in the darkness, I will follow You."
""I'm so small," said the mole. "Yes,"said the boy, "but you make a huge difference.""